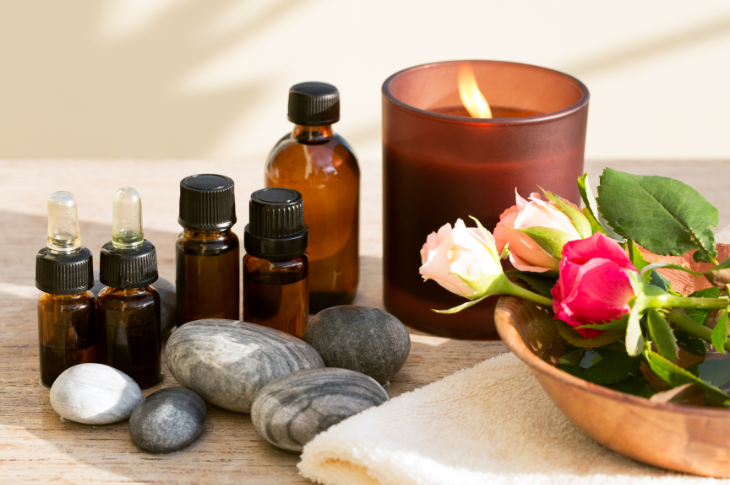 Are CBD Candles a Type of Aromatherapy?
Aromatherapy is an ancient practice that involves using natural extracts from plants, flowers, and herbs to heal various ailments. Its use dates back thousands of years, but its popularity is still continuing to grow. There are many different ways to approach aromatherapy and various reasons for doing so. This article covers how aromatherapy works, its origins, how and why it's used, and whether CBD candles are a type of aromatherapy. 
What is aromatherapy?
Aromatherapy offers a holistic approach to healing as it aims to improve the health and wellbeing of the mind, body, and spirit. The emotional effects of aromatherapy are considered as important and prominent as its physical effects. Essential oils and aromatic plant extracts are used to stimulate health and healing by triggering responses via inhalation and/or skin absorption. 
When someone inhales scent molecules, such as from a lavender essential oil, it travels through the nasal cavity and stimulates olfactory nerves. These nerves then send signals to the brain. In particular, aromatherapy typically impacts the brain's limbic system, which plays a role in regulating various functions such as emotions, behaviour, hormones, blood pressure, and heart rate. The resulting effects are determined by the natural benefits of the ingredients and what the person associates the scent with. In the case of lavender, a person may think of it as a relaxing scent as it's well known for its natural ability to calm the central nervous system and reduce stress levels. They would therefore feel relaxed when using lavender oil for aromatherapy. In addition to inhalation, topical options are a popular form of aromatherapy. Products like massage oils and creams that are designed for aromatherapy can absorb via the skin to provide similar benefits. 
Origins of aromatherapy
Aromatherapy dates back thousands of years. Ancient societies from various parts of the world included plant extracts in oils and balms, which were used for medicinal healing and religious practices. Some of the regions that are closely associated with ancient aromatherapy practices include Egypt, Iran, China, India, France, and Germany. Ancient Egyptians are thought to have been using aromatic oils and plant-derived remedies from as early as 3500 BC. 
Despite its long history, the term 'aromatherapy' was first coined as recently as 1937 by René-Maurice Gattefossé, a French chemist. After suffering a severe burn and using lavender oil to heal it, he wrote a book about aromatherapy and the use of essential oils for healing purposes. Since then, aromatherapy as it is now known has continued to grow in popularity and gain recognition in scientific and medical communities. 
What is aromatherapy used for?
Aromatherapy is used for a range of reasons by people from varying backgrounds. Its wide appeal is largely due to the fact that it's holistic, offering both physical and emotional benefits. Some common reasons for practising aromatherapy include:
Anxiety and stress 

Pain 

Sleep difficulties

Digestive issues

Decreased immune function

Exposure to germs (including fungus, bacteria, and viruses)
How do people use aromatherapy products?
There are several ways to get started with aromatherapy. Due to its ever-growing popularity in the wellness industry, various product types are available. For example, some people enjoy using aromatherapy creams and massage oils for topical application. Others prefer to inhale the aromas, and would therefore use products such as incense, diffusers, and candles. 
Some people also use a combination of these and other aromatherapy products to allow different essential oils and plant extracts to work together synergistically. For example, lavender oil is effective for calming purposes, but using a combination like lavender, peppermint, and ginger essential oils could provide more well rounded results. Lavender is calming, peppermint is thought to help with pain, and ginger is great for digestion, so the effects of combined aromatherapy are further reaching. This is a similar concept to the entourage effect, which is associated with full spectrum CBD products. It refers to the theory that allowing multiple cannabinoids to work together is more effective than isolating a single cannabinoid. 
Are CBD candles a type of aromatherapy?
Aromatherapy is a wide ranging term as it relates to the use of aromatic plant extracts and essential oils for healing purposes. Therefore, many different products can fall under the category of aromatherapy. CBD candles are scented candles infused with cannabidiol, which is extracted from hemp plants. As hemp is an aromatic plant, and its extracts are used in CBD candles, they can be considered a form of aromatherapy. These candles also typically include high quality fragrance oils from various natural sources, helping them to fall well within the aromatherapy category. 
What types of CBD candles does Simply CBD offer?
At Simply CBD, we've recently introduced our own range of CBD candles. They come in two different scents, both of which contain 20mg of CBD per candle. Each candle comes in a classic glass holder containing high quality soy wax and fragrance oils. As their aromas and CBD infusions fill the air and the CBD candle wax begins to melt, users can passively absorb all the therapeutic ingredients.
Egyptian Amber
We now offer an Egyptian Amber Scented CBD Candle. This option produces a rich, sultry fragrance with warm Moroccan amber, enriched by spicy cinnamon, bitter orange, and touches of coriander. This then leads to a base of vanilla pod, sandalwood, patchouli, and ylang ylang. These scents, in addition to the CBD content, provide users with a well rounded aromatherapy experience. 
Lavender Spa
In addition to our Egyptian Amber Candle, we also offer a Lavender Spa Scented CBD Candle. This candle produces a beautiful, soothing scent, with a relaxing tone of lavender and chamomile. It incorporates fresh summer herbs and lavender flowers, and is warmed by fruity chamomile and a hint of geranium. This candle is perfect for calming purposes thanks to its lavender, chamomile, and CBD content.
Key takeaways
Here are the key point to remember about aromatherapy and how it relates to CBD candles:
Aromatherapy is an ancient practice that dates back as far as 3500 BC.

The practice involves using aromatic plant extracts and essential oils via inhalation and absorption for healing purposes.

It's considered holistic as it aims to improve the health of the mind, body, and spirit.

Although it is an ancient practice, the popularity of aromatherapy still continues to grow.

Common reasons for practising aromatherapy include stress, pain, and digestive issues, among many others.

Aromatherapy products can include anything from candles and diffusers to creams and massage oils. 

CBD candles can be considered a form of aromatherapy.

At Simply CBD, we offer two scented CBD candles; Egyptian Amber and Lavender Spa.