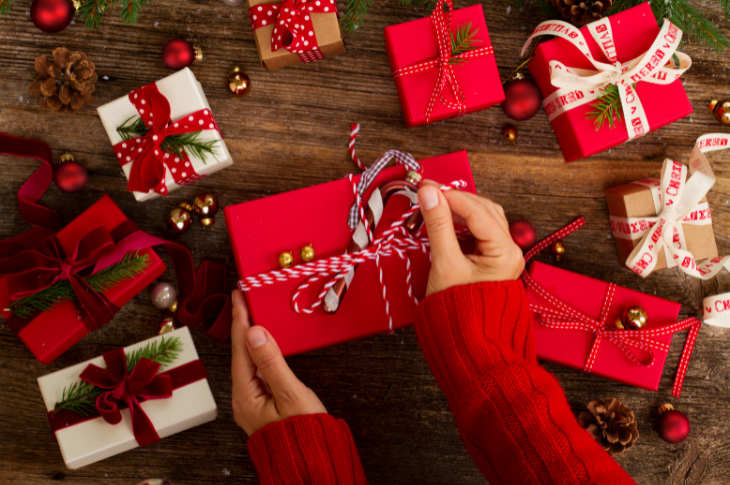 Are you looking to give the gift of CBD this Christmas? We may be biased, but in our eyes, there's no better gift you can give someone you love than the gift of enhanced wellbeing. We also know that trying to work out the perfect gift can be overwhelming. That's why we've made it simpler for you with this comprehensive CBD gift guide. From calming candles to delicious gummies and everything in between, this article will steer you in the direction of the perfect CBD gift options. So, grab a cup of cocoa, get your reading glasses on, and dive into the world of giftable CBD products!
Which types of CBD products make the best gifts?
Some CBD products make more suitable gifts than others. For example, oils wouldn't necessarily be our first choice as a gift because finding the right type of oil and dosage is a very personal journey that's unique to each individual. However, if you happen to know the recipient's dose and/or their chosen oil, you could decide to gift them with a top-up. For those of you who don't have this information, or want to introduce someone to the world of CBD, fear not! There are plenty of easy giftable CBD options available. Better yet? You don't need to worry about common allergens or lifestyle restrictions, as all of the products we touch on in this article are vegan, gluten-free, and cruelty-free.
Gummies
If you're looking for a type of CBD product that pretty much anyone will be willing to try, gummies are a perfect option. They're fruity and delicious, with flavours ranging from apple and lemon to tropical options like watermelon and mango. Gummies absorb via digestion and serve as a treat that is equal parts tasty and beneficial. As with any CBD product, we still recommend that users start low and slowly grow, so it's important to pass this information on to the recipient. However, if they're already a CBD user and you'd like to offer them a new type of product to try, they will likely know how much is right for them to take.  
At Simply CBD, we offer two strengths of gummies; 10mg per gummy and 25mg per gummy. If these doses seem too high or too low, don't worry, they can be customised. The recipient can choose to cut the 10mg or 25mg gummies into halves, thirds, or quarters, to create their own bespoke dose. They can also take more than one gummy if they typically require a high dose. This versatility, paired with the desirable fruity flavours packed into these CBD-infused treats, is what makes them a perfect Christmas gift. 
Candles
Regular candles are good gifts, but why not step it up a level and give a great gift by opting for a CBD candle? They offer the calming aromas and beautiful scents of regular candles, with the added benefits of CBD. Our candles don't require any extra effort or knowledge of CBD, just some matches and a safe area to burn. As the candle burns and the wax begins to melt, therapeutic aromas and CBD will be released into the air, ready for passive absorption. CBD candles can serve as a great stepping stone into the world of CBD, or a perfect addition to a long-standing CBD routine. 
At Simply CBD, we offer two CBD candle options, each containing 20mg of CBD per candle. For those who are into classic calming scents, our Lavender Spa candle is the perfect choice. It incorporates fresh summer herbs and lavender flowers, and is warmed by fruity chamomile and a hint of geranium. For people who prefer a deeper, more sultry fragrance, our Egyptian Amber candle is the way to go. Your recipient will enjoy the scent of warm amber, enriched by spicy cinnamon, bitter orange, and touches of coriander. This then leads to a base of vanilla pod, sandalwood, patchouli, and ylang-ylang. No matter which scent you choose, each candle comes in a sleek glass holder that fits seamlessly into any home decor style. Give your recipient their perfect dose of zen this Christmas with a Simply CBD candle.
Patches
Not everyone is open to consumable versions of CBD, and for those people, we have CBD patches. They absorb via the transdermal method, which means via the skin into the bloodstream. This offers high bioavailability and allows the CBD to be absorbed gradually rather than all at once. Your recipient can simply place a patch on their upper arm or a particular area of concern and then leave it to work its magic. They last for up to 36 hours without the need for any top-ups, so if your recipient happens to be a bit forgetful or prefers low-effort products, patches are a great option. 
At Simply CBD, we offer three CBD patch options. First, we have our standard 15mg patches which are suitable for all CBD users, including beginners. We also offer 15mg strength patches in a sleep support variety, with the difference being that the sleep patches are infused with lavender. These are also suitable for all CBD users, including beginners. Finally, we have our high-strength 30mg patches. We wouldn't recommend these for beginners, but they are perfect for long-time CBD users, especially those who prefer a higher dose. Like our gummies, some users choose to make their own customised doses by cutting patches in half or wearing more than one at a time. Patches require very little effort in return for high efficacy and long-lasting results, making them the perfect gift for beginners and CBD aficionados alike. 
Balms and salves
Is your recipient prone to aches and pains, whether it be from lots of activity, an injury, or any other source? Then a CBD balm or salve is the perfect gift to show them you care. These products are applied directly to the affected area(s) and remain within the skin, rather than entering the bloodstream. The mixture of natural ingredients and extracts in these products enhances their soothing effects and helps provide users with targeted relief. They also leave the skin feeling soft and smooth thanks to their plethora of skin-friendly ingredients.
At Simply CBD, we offer three CBD balm and salve options. First, we have our CBD Muscle Salve, which offers 200mg of CBD per tin and is bolstered by beneficial natural ingredients such as rosemary and mint. Next is our CBD Muscle Balm, which contains 400mg of CBD per container, is easy to apply via the roll-on method, and contains beneficial natural ingredients such as eucalyptus and peppermint. Both of these products contain coconut oil, shea butter, and jojoba oil for additional benefits. We also offer a 300mg CBD balm from Little Hemp Shop, which contains cocoa butter and lavender essential oil. All of these products are suitable for all CBD users, including beginners. Offer your recipient some targeted relief from their aches and pains by gifting them a soothing CBD balm or salve this Christmas.
Are there other options if I don't want to give a CBD product?
CBD products are a great gift for anyone to give or receive, but that may not be what you have in mind. In that case, don't fret, we still have a few options for you to explore!
Turmeric pastes
If you want a CBD-free gift to accompany one of the products above, or to give on its own, our turmeric pastes are a perfect choice. We have options for people and pets, so even your four-legged friends and family members can get in on this gift. The pastes are made with natural ingredients including turmeric (obviously), coconut oil, Ceylon cinnamon, and cracked black pepper. The option for pets also includes apple cider vinegar. Each paste contains a minimum of 5.1% curcumin, which is the main active ingredient in turmeric. 
Making turmeric paste at home can be a very messy endeavour. Using our pre-made pastes provides all of the benefits without any of the hassle. They're easy to use and very versatile. Whether your recipient prefers to take it directly from a spoon or add it to food or drinks, our pastes can fit the bill. This also applies to the pet-friendly version. Supplement your recipient's health by gifting them and their adorable furballs these highly beneficial superfood pastes. 
Gift card
Do you know someone who wants to get into CBD, but you want to let them choose their own products to get started on their journey? No problem! Giving them a Simply CBD Digital Gift Card means you can contribute to the start of their CBD journey without dictating which products they use. This is also a great option for avid CBD users, as money towards top-ups will always be a welcomed gift. If you feel apprehensive about giving CBD as a gift but still want your gift to result in the recipient using CBD in some way, this is the perfect solution. The value options range from £10 to £100, making them suitable for any budget. Give your loved ones the gift of 'free' CBD this Christmas with a Simply CBD Digital Gift Card.
Referral discount
If you're super prepared and have all your gifts ready to go, but still want to give someone a nudge in the direction of CBD, why not refer them to us? With our referral system, you'll get 400 points (which = £4 off!) and the person you refer will get 10% off their first order with us. It's a win-win that allows both you and the recipient to save money on CBD, and who doesn't love the sound of that? It's not a traditional gift under the tree per se, but it can serve as a virtual stocking stuffer to get someone started on their CBD journey. 
Additional advice for CBD gift-givers
Once you decide on the perfect CBD gifts for your loved ones, it's a good idea to provide them with plenty of useful information. This is especially true if they're new to CBD, but all CBD users can benefit from additional guidance and information from time to time. For new users, we highly recommend sending them a link to our Beginner's Guide. It details everything a new user needs to know about CBD, including information about each product type. In addition to this article, our blog is full of helpful posts that CBD users and beginners can benefit from reading. The topics range from determining the value of a CBD product to instructions on how to read CBD lab reports, and beyond!
If at any point your recipient needs personalised support, we offer multiple avenues for them to explore. Our friendly team of Simply Experts can be reached via email or Live Chat with any queries. We also offer a community support group on Facebook which is run by our customers and has amassed over 48,000 members. No matter which option your recipient chooses, there will be someone who is more than happy to help. 
To ensure that you get your gifts in time for Christmas, make sure you order by 20th December if you're in the UK, and 19th December if you're in Northern Ireland, Highlands, or another area outside of mainland UK. Happy shopping to all of you lovely CBD gift-givers, and Merry Christmas from our Simply CBD family to yours!