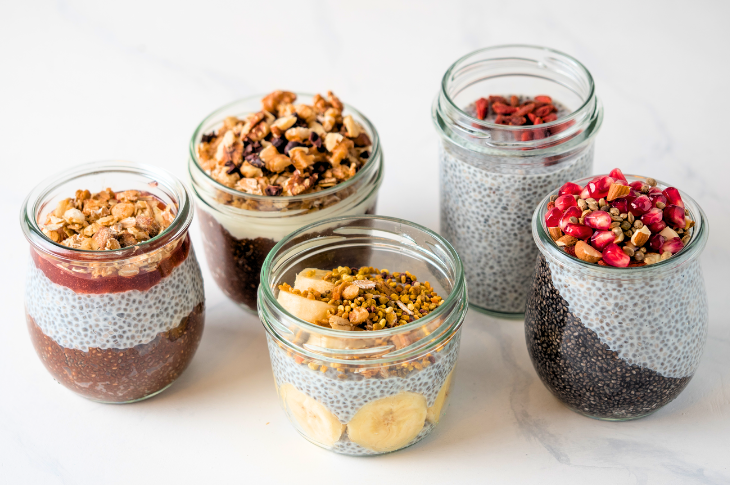 Healthy CBD-Infused Breakfasts: Chia Pudding
When you're rushing to get ready in the morning, nothing comes in handy like a pre-made, healthy breakfast. That's why chia pudding has become all the rage in recent months. So, we're here to help you step up your breakfast game with the perfect CBD-infused chia pudding recipe, including multiple toppings and customisation options for you to try. Now you can take your morning dose of CBD and start your day with plenty of nutrients all in one tasty package. 
CBD-infused chia pudding recipe
Chia pudding is an incredibly easy breakfast to make and only requires 5 ingredients.
Ingredients
Here's what you'll need:
2 tablespoons chia seeds

125ml milk (dairy or plant-based)

½ teaspoon vanilla extract

1-3 teaspoons of maple syrup, agave, or another sweetener (depending on your sweetness preference)

1-2 pumps of

Entourage Aqua Water Soluble CBD

(depending on your ideal morning dose)

Any optional toppings or customisations you'd like to add
Instructions
Here's how to make this tasty breakfast:
Mix your chia seeds, milk, sweetener, and vanilla extract in a bowl.

Add your desired dose of water-soluble CBD to the mixture and stir.

Pour the mixture into a small jar or receptacle with a secure lid.

Place the jar in the fridge and leave overnight.

In the morning, add your favourite toppings.

Enjoy your CBD-infused chia pudding!
Chia pudding toppings and customisation options
The above recipe is a standard base recipe for a simple CBD-infused chia pudding. You can enjoy it as it is, or include additional toppings and customisations to tailor it to your tastebuds.
Toppings 
Here are some great topping options for you to try:
Fresh fruit:

Why not add fresh fruits like raspberries, strawberries, banana slices, or blueberries to your chia pudding? They add extra sweetness and nutritional value all at once. 

Nuts and seeds:

Adding nuts and seeds to your chia pudding helps diversify the texture of the recipe by adding a little crunch. 

Coconut flakes:

The flavour and texture of coconut flakes perfectly complement the standard chia pudding recipe, so why not take it up a notch by adding them?

Chocolate chips:

If you're looking to treat yourself, try adding some chocolate chips to your pudding for a cookie-dough-inspired breakfast that's as healthy as it is delicious. 

Yoghurt:

You can add yoghurt of various flavours and sweetness levels to the top of your pudding to act as icing.

Cinnamon:

Dusting your chia pudding with cinnamon gives it a more diverse flavour profile that's reminiscent of classic cinnamon cereals and treats. 
Customisation 
Aside from toppings, there are a few other ways you can customise your CBD-infused chia pudding, such as:
Use flavoured milk

: Using options like vanilla oat milk, hazelnut milk, or chocolate milk can give the pudding different base flavours, which may be better suited to your preferences.

Swap out the vanilla extract:

If you're not a fan of vanilla, why not try alternatives like natural cinnamon or hazelnut flavourings?

Add to your mixture:

You can add extra ingredients, such as nut butters, jams, fruits or even a shot of matcha to the initial mixture to achieve a different flavour of chia pudding. 

Make multiple batches:

Rather than making a new batch each night, you can make multiple at a time by sizing up the recipe. Chia pudding can last in the fridge for up to five days.
Benefits of chia seeds
Chia seeds prove the validity of the phrase 'good things come in small packages'. These tiny seeds contain protein and fibre, as well as essential fatty acids and other key nutrients. They're also loaded with vitamins, antioxidants, and several of the nutrients needed to maintain healthy bones. Some studies even suggest that chia seeds may help reduce heart disease risk, aid in weight loss, and lower blood sugar levels. No wonder they've become the base of one of the most popular breakfasts around!