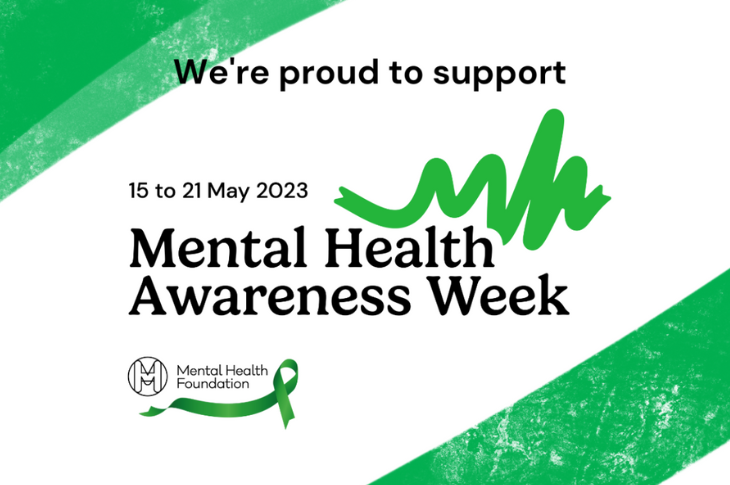 How To Get Involved With Mental Health Awareness Week 2023
Mental Health Awareness Week takes place this week in the UK, starting on Monday 15th May. This nationwide campaign helps raise awareness of mental health issues, including common conditions like depression and anxiety. This article provides information about the many different ways people can get involved with the campaign to help drive positive change.
What is Mental Health Awareness Week?
The Mental Health Foundation (MHF) has been home to Mental Health Awareness Week since 2001. Each year, a new theme is chosen to be the focus of the week. For example, in 2022, the theme was loneliness. So, while both the foundation and the campaign aim to raise awareness about all mental health conditions, the theme gives participants a worthwhile cause to focus on each year. This helps ensure each condition or issue gets its own time in the limelight, as they're all worthy of heightened awareness. 
What is this year's theme?
The theme of this year's Mental Health Awareness Week is anxiety. This is due to the fact that anxiety is one of the most common mental health conditions that people face in the UK. With the added pressures of the current cost of living crisis, it has become even more common. In fact, according to a new study commissioned by the Mental Health Foundation, more than a third of adults in the UK feel anxiety about their financial situation. The study also found that 29% of UK adults feel stress and 10% feel hopelessness due to the cost of living crisis. 
Anxiety isn't all about finances, and can be triggered by any number of factors that impact people in their daily lives, such as problems with work, school, socialising, or relationships. According to anxiety statistics published by the MHF, women and young people seem to be the most commonly affected demographics. However, anxiety can affect anyone regardless of who they are or where they come from, and it's not something people need to be ashamed of. The point of this campaign is to bring light to anxiety so more people understand it and those who suffer from it can get the support they need.
5 ways to get involved
There are plenty of different ways for people to get involved with Mental Health Awareness Week, ranging from making a donation to wearing a ribbon associated with mental health.
1. Hold a 'Wear it Green Day' event
Wear it Green Day, an initiative created by the MHF, is more than what it sounds like. In addition to wearing green, of course, the organisation encourages people to hold fundraiser events in schools, workplaces, and their communities. These events can range widely from quizzes to bake sales and beyond. The foundation encourages people to hold their events on Thursday 18 May, which is the day they recognise as 'Wear it Green Day'. However, these events can also be held at other times, as 'every day is a good day to support mental health.'
The MHF provides all the necessary information and resources to join the movement. For example, they have individual packs for schools, communities, and workplaces. These demographics are also offered useful materials like permission forms, email signatures, anxiety booklets, and more. Additionally, people interested in participating in Wear it Green Day can find more general multipurpose resources such as quizzes, a raffle guide, social media graphics, and bunting. These can be used as organisers see fit within their events. As long as each event aims to help bring awareness and donations to the campaign, it fits the bill. 
2. Make a donation
For those who are short on time but still want to take part, one of the quickest ways to participate in Mental Health Awareness Week is by making a donation to the Mental Health Foundation. On the donation page, there are set amounts and custom options, as well as the ability to send a one time donation or set up a monthly contribution. Any donation, big or small, will be greatly appreciated. Donations help the organisation continue to carry out their life changing work of fighting for good mental health for all. 
3. Order a green ribbon
As with many worthy causes, mental health has a specific awareness ribbon in the colour green that people can wear to show their support. In addition to wearing the globally recognised symbol of mental health awareness, people can post about it with the hashtag #PinItForMentalHealth to help spread the word. Some may wear the ribbon to help start a conversation about mental health, while others may wear it in memory of someone close to them. Whatever the reason is behind it, wearing a green ribbon this week is a simple yet effective gesture that shows public support for a good cause. All of the proceeds from ribbon purchases go straight back into the Mental Health Foundation's work. 
4. Share tips and resources
Social media is a useful tool for getting involved in Mental Health Awareness Week. For example, using the hashtags #ToHelpMyAnxiety and #MentalHealthAwarenessWeek, people can share what they do to help them cope with their anxiety symptoms. This information may help someone who feels like they're running out of options or needs a new perspective on their own experience with anxiety. Other useful resources to share include reports and articles that help spread awareness about the campaign and this year's theme of anxiety. The more people understand the issue, the more communities and organisations can do to help tackle it. 
5. Provide personal support 
In addition to the many ways to participate in the wider campaign, people can also make a difference on a smaller scale. Offering a helping hand to a loved one who suffers from mental health issues is a great way to show support. Whether they need help completing certain tasks or could just use some company, the difference these small acts can make is immeasurable to someone who's struggling with their mental health. Having a heightened awareness of these potential opportunities to make a difference to loved ones is just as worthwhile a way to participate in Mental Health Awareness Week as any of the wider scale options on the list.