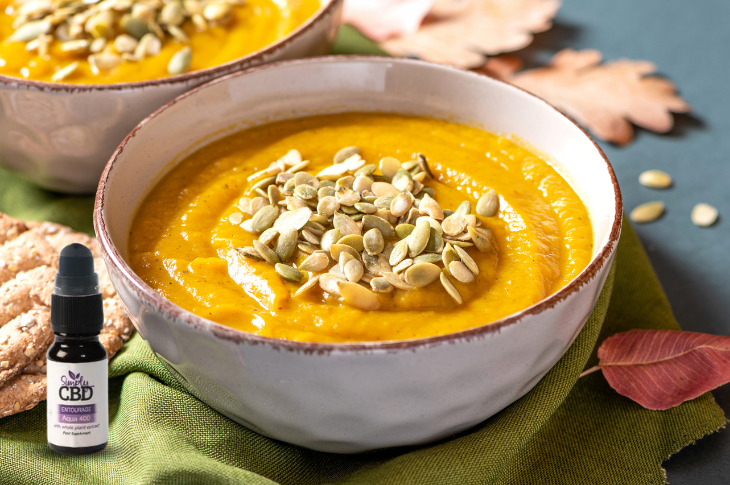 Make Your Own CBD-Infused Pumpkin and Sage Soup
It's pumpkin season! Whether you prefer to carve them, eat them, or both, you'll likely have some fresh pumpkins in your home this month. That means you'll need plenty of delicious recipes to make sure none of it goes to waste. In case you missed it, we already shared a festive CBD-infused pumpkin spice latte recipe on our Facebook and Instagram pages. It's perfect for a morning pick-me-up and offers an easy way to include CBD in your daily routine.
Why pumpkin and sage soup?
The weather keeps getting colder, which means hearty, warming meals are a must. That's why simple and delicious recipes like this one are perfect for this time of year. Pumpkin and sage are both packed with nutrients, minerals, vitamins, and antioxidants to give you the boost you need as we move towards winter. This soup also gives you a fun new way to incorporate some or all of your daily CBD intake. You can make this recipe vegan friendly by substituting the double cream with plant-based double cream.
Ingredients
As you can imagine, there's more to a delicious CBD-infused pumpkin and sage soup than just pumpkin, sage, and CBD. Here are the key ingredients you'll need for this recipe:
4 tbsp extra virgin olive oil

1kg pumpkin (cut into small chunks)

800ml vegetable stock 

1 large onion (chopped)

100ml double cream (plant-based or dairy)

2 cloves of garlic

2 tsp of ground ginger

½ tsp of allspice

3 sage leaves

25-40mg Entourage Aqua Water Soluble CBD (depending on your ideal dose)

A small handful of toasted pumpkin seeds

Salt and pepper to taste
Instructions
Once you have all your ingredients ready, you can begin making your meal. Here's our method for making the perfect CBD-infused pumpkin and sage soup:
First of all, begin by preheating your oven to 180 (fan) or 200 (regular).

Now it's time to add your pumpkin chunks, garlic, ¼ tsp allspice, 1 tsp ground ginger, sage leaves, salt and pepper to a roasting tray.

Next, drizzle approximately 2 tbsp of extra virgin olive oil over the contents of the roasting tray and mix.

Place your roasting tray in the oven and leave it to roast for around 45 minutes or until the pumpkin has softened.

While that roasts, you can chop your onion and heat the remaining 2 tbsp of extra virgin olive oil in a pan.

Once the oil is ready, add your chopped onion to the pan and cook it for a couple of minutes or until softened. 

Remove your pumpkin mix from the roasting tray and add it to a large pot along with your softened onions and vegetable stock.

Let the stock, onions, and roasted pumpkin mix boil for 2 to 5 minutes.

Now it's time to add your double cream, Entourage Aqua Water Soluble CBD, and the remaining ginger, allspice, salt and pepper to the pot.

Once all of the ingredients are in the pot together, use an immersion blender to create your soup. Alternatively, you can add all the ingredients to a standard blender and combine them that way. 

Finally, serve your soup in your favourite bowl and garnish it with toasted pumpkin seeds.

Enjoy your CBD-infused bowl of autumnal heaven!! 
Tips
Here are some extra tips and tricks for making the perfect CBD-infused pumpkin and sage soup:
If you're looking for a way to add an extra layer of flavour to your soup, you can include a bay leaf in the recipe. Just make sure to remove it before you blend all the ingredients together!

For some extra crunch, try adding some croutons in with the pumpkin seed garnish.

You can serve this recipe with a grilled cheese or some garlic bread to make it a little more indulgent. 

Making your toasted pumpkin seeds in advance can save you time with this recipe.

You can use fresh ginger rather than ground ginger if that's what you prefer, just make sure to adjust the quantities accordingly (you'll need more fresh ginger than you would ground ginger).
Final thoughts
If you're looking for a warming, healthy, delicious soup recipe for autumn and winter, look no further. Not only does our pumpkin and sage soup recipe tick all of those boxes, it's also infused with CBD. This recipe is very simple to make and is full of natural, healthy ingredients. It's a great way to contribute to your five a day and your daily CBD intake at the same time. 
If you make this recipe at home, we'd love to see the results and hear your thoughts about it. Make sure to tag us on Instagram @simplycbduk so we don't miss your posts. If there are any other CBD-infused recipes that you'd like to see from us, please let us know. We love providing new ways for you to enjoy CBD!