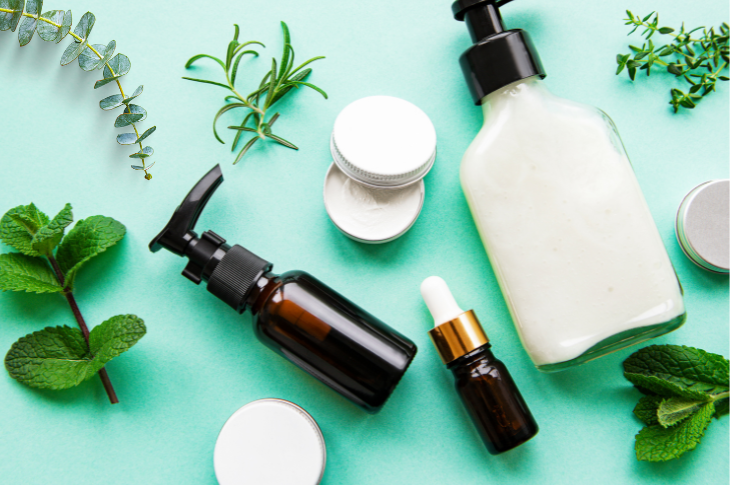 Benefits of Natural Ingredients in CBD Balms
CBD is, of course, the main ingredient in all of our balms and salves. However, these products also contain various other natural ingredients. These ingredients do more than offer fresh scents, they also add to the overall scope of benefits that our balms and salves have to offer. From antioxidant powerhouses to natural anti-inflammatories, the range of benefits these ingredients bring to the table is wide. This article details the main benefits of seven different natural ingredients found in our range of topical balms and salves. 
Peppermint oil
Peppermint oil, which is found in our CBD Muscle Balm, has various benefits. For example, it has cleansing properties such as salicylic acid and vitamin A, which allows it to help reduce skin concerns like acne and blackheads. It can also help soothe inflammation caused by skin irritations like insect bites. Peppermint oil is a popular ingredient for many skincare products as it is thought to tone skin, help with anti-ageing, lighten scarring and under-eye bags, and brighten the skin's overall complexion. 
In addition to its impressive benefits for the skin, peppermint oil is also thought to help reduce muscle spasms and relieve pain. These benefits make peppermint oil the perfect ingredient for a muscle balm, as it's kind to the skin while aiding in the reduction of pain and soreness.
Rosemary oil
Rosemary oil is included in our CBD Muscle Salve. It's popular for its high concentration of nutrients and antioxidants, both of which can help promote the production of collagen. Additionally, its anti-inflammatory properties allow it to help soothe skin irritations. Rosemary oil can both cleanse and moisturise the skin as it's a natural astringent with hydrating properties. This means that it can help gently unclog skin pores, relieving them from a build-up of dirt and oil. 
In addition to skin health, rosemary oil is also thought to be a mild pain reliever. Its anti-inflammatory properties are believed to allow it to reduce tissue inflammation that would otherwise cause pain, swelling, and stiffness. Similarly to peppermint oil, the combination of both skin health and anti-inflammatory benefits makes rosemary oil the perfect addition to our salve product.
Eucalyptus oil
CBD users searching for a product containing eucalyptus oil can find it in our CBD Muscle Balm. This particular extract has wide-ranging benefits. For example, it can help clean and disinfect wounds on the skin. It can also fight against skin inflammation issues and promote healing. Interestingly, eucalyptus oil is also often used to help soothe cold sores. 
Its anti-inflammatory abilities go further than skin concerns, as eucalyptus oil is also thought to help reduce inflammation caused by muscle injuries. In addition to muscle relief, this natural extract is also believed to help ease joint pain. All of these impressive benefits are the reasons why including eucalyptus oil in our CBD Muscle Balm is a no-brainer.
Coconut oil
Coconut oil is a highly versatile and beneficial ingredient that can be found in all of the products in our CBD balms and salves range. It contains a high concentration of antioxidants and also offers antimicrobial, antifungal, and anti-inflammatory properties. These properties, in addition to its ability to seal moisture into the skin, allow coconut oil to help soothe various skin irritations. This is particularly true of dry skin conditions like eczema. 
The ability coconut oil has to reduce inflammation may also apply to inflammation in the muscles and joints. Reducing inflammation in these areas can also help reduce any related pain or discomfort. Its topical benefits alone make coconut oil a perfect base for our CBD balm and salve options. There are also various benefits of consuming coconut oil, such as the fact that it provides a quick source of energy, but these are largely irrelevant when considering topical products. However, we do offer ingestible products that contain coconut oil, such as our Pure CBD Oil and CBD SoftGels. 
Shea butter
Like coconut oil, shea butter can be found in more than one of our balms and salves. It's present in both our CBD Muscle Balm and CBD Muscle Salve, serving as a base for these products alongside coconut oil. Shea butter is popular for its moisturising, antibacterial, and antifungal properties, as well as its high concentration of antioxidants. These characteristics make it possible for Shea butter to help treat skin wounds. It's also thought to help soothe skin irritations like sunburns and insect bites due to its natural anti-inflammatory abilities. Additionally, this ingredient is believed to help reduce the appearance of scars, wrinkles, fine lines, and stretch marks. This may be due to the fact that shea butter contains a type of chemical compound that can boost collagen levels. 
One of the most common reasons that people use our balms and salves is to soothe aching muscles and joints, which can occur from lots of physical activity. Shea butter is thought to help ease these concerns thanks to its anti-inflammatory properties. As the inflammation reduces, so will the associated pain and soreness. We've included this ingredient as a base in multiple products because of its impressive and diverse set of benefits.
Jojoba oil
Like shea butter, jojoba oil is also found in both our CBD Muscle Balm and CBD Muscle Salve. It's incredibly beneficial for the skin, and contains antibacterial, antimicrobial, and antifungal properties. As it contains vitamin E, jojoba oil is able to work as an antioxidant on the skin. This ingredient is suitable for all users as it's both non-comedogenic and hypoallergenic. It's naturally hydrating for the skin, allowing it to help soothe drying skin conditions. Jojoba oil is also thought to help with other skin concerns like acne, sunburns, and wound healing. 
In terms of cosmetic appeal, jojoba oil may aid in the reduction of scars, fine lines, and wrinkles. This is largely due to the belief that jojoba oil can promote the production of collagen. It's hard to imagine a natural ingredient with more skin-specific benefits, which is why jojoba oil makes such a great addition to the ingredients list of our topical balms and salves. 
Vitamin E
Vitamin E is present in some of the ingredients above already, but we also add it separately to both our CBD Muscle Balm and CBD Muscle Salve. This helps provide these products with additional antioxidant abilities. Vitamin E may also help with wound healing, soothing dry skin, and the reduction and prevention of cosmetic concerns like scars and wrinkles. This extra vitamin content only serves to improve the already impressive benefits that our CBD balms and salves have to offer.