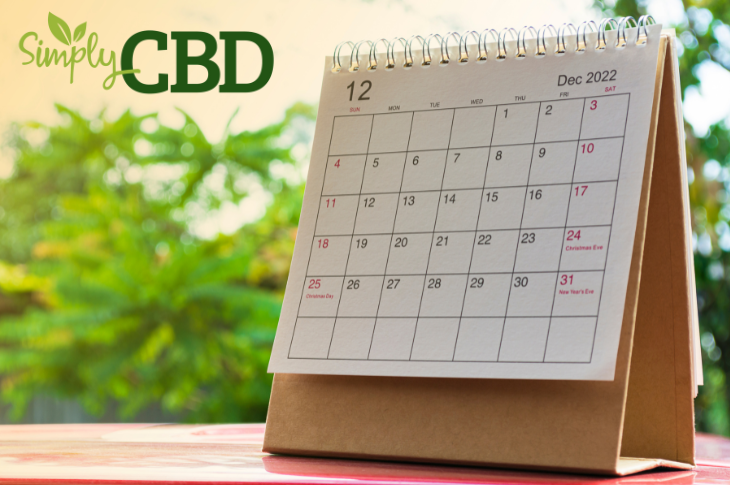 Simply CBD's 2022 Highlights
2022 has been an exciting year for us here at Simply CBD. From new team members to new products and beyond, there are plenty of moments we're grateful for as 2022 comes to a close. It has been a year full of improvements for our brand, and we look forward to continuing this trend in 2023. But, before we get ahead of ourselves, let's take a look at some of this year's top highlights for Simply CBD. 
New team members
We welcomed team members early this year to help improve our social media presence and customer support experience.
Social media
Our marketing team grew so that our social media presence could do the same. We now operate regularly on Instagram, Facebook, and Twitter, and will soon be regularly producing content for TikTok. The content we've shared this year has included educational posts, funny memes, awareness posts, competitions and giveaways, original recipes, reviews, fun facts, tips, and much more! The expansion within this team has also allowed us to publish weekly blog posts on our website that focus on a wide variety of topics. In addition to the blog, the team has made numerous updates to the content across all areas of our website to ensure it's educational, up-to-date, and user-friendly. We've got plenty more ideas brewing for 2023 and our team is eager to provide customers with even more engaging content on all platforms.
Customer support
Customer support has always been and will continue to be one of our core values at Simply CBD. So, it was a no brainer to expand this team to ensure we're providing the best quality support possible. From follow up phone calls after first orders, to personalised advice via live chat and email, our team has gone above and beyond to assist each and every customer with care. Our goal is always to make sure each customer knows they matter and that we genuinely want to help them in any way we can. Our expanded team has allowed us to follow through on this goal and provide users with first-class support and guidance. The team is looking forward to helping even more customers get the most out of their CBD journey in 2023!
New website
In August, we launched our new and improved website, and with it came some exciting new features. One of the biggest changes was the addition of our CBD Finder Quiz. It allows CBD users to find products that suit their needs based on various criteria. We also made it simpler to learn about our products, including their ratings, types, and key features. This is a result of updates to our product listings and the addition of our dosages page, which is full of information about how to use each product type. For new users, we made our informative Beginner's Guide to CBD much easier to find on our homepage. Our FAQs have also been updated to help our customers find the answers they're looking for. From new collections to an updated layout, our new website has helped us elevate the customer experience, making it easier than ever to learn about and purchase CBD!
New products
One of the most exciting projects to embark on as a brand is launching something new. In 2022, we launched not one, not two, but three brand new products!
Gummies
The first product we launched this year was our 25mg CBD Gummies. We already offered 10mg CBD gummies (and still do), but it was time to expand the range with a higher strength option. The new gummies come in tubs of 30 with flavours including apple, lemon, watermelon, and mango. They're equally as delicious as they are beneficial, and what could be better than that? Each gummy delivers 25mg of CBD, but they can also be cut into halves, thirds, or quarters to create a bespoke dose that suits each individual. These gummies have proven to be very popular among our customers and we're proud to have them as part of our range. 
Lavender patches
We're constantly hearing from customers in reviews and other communications that a big issue for them is being able to get to sleep and stay asleep. That's why we offer a dedicated sleep support range, which now includes our Lavender CBD Patches. This sleep-specific variation of our 15mg CBD patches was launched shortly after our newest gummies. The infusion of lavender, which has long been used as a sleep remedy, helps bolster the already impressive effects of CBD. The active ingredients are slowly released, helping people fall asleep and stay asleep for longer. These patches have made a great addition to both our Sleep Support and Patches ranges, offering an alternative to traditional products like oils and gummies. 
CBD candles
Our most recent product launch was our CBD Candles. We offer two options, both of which come in sleek glass holders and contain 20mg of CBD per candle. Our Lavender Spa candle incorporates fresh summer herbs and lavender flowers, and is warmed by fruity chamomile and a hint of geranium. Our Egyptian Amber is a more deep and sultry scent, which incorporates warm amber, enriched by spicy cinnamon, bitter orange, and touches of coriander. This then leads to a base of vanilla pod, sandalwood, patchouli, and ylang-ylang. These beautiful scents and calming aromas, in combination with CBD, allow our candles to bring the perfect dose of zen into any home. They have also helped diversify our range in a way that gives users a chance to enjoy CBD in a brand new form.
Final thoughts to wrap up the year
Our team, website, and product range has expanded and improved massively this year, and we have no plans to stop there. We're very excited to share many new updates over the course of 2023. But, for now, we'd like to say thank you to every single person who bought products from us, left us a review, followed us on social media, or supported us in any way in 2022. We absolutely love doing what we do, and we couldn't do it without you! So, in advance, we'd like to say Happy New Year from our Simply family to yours. We look forward to continuing our journey in 2023!