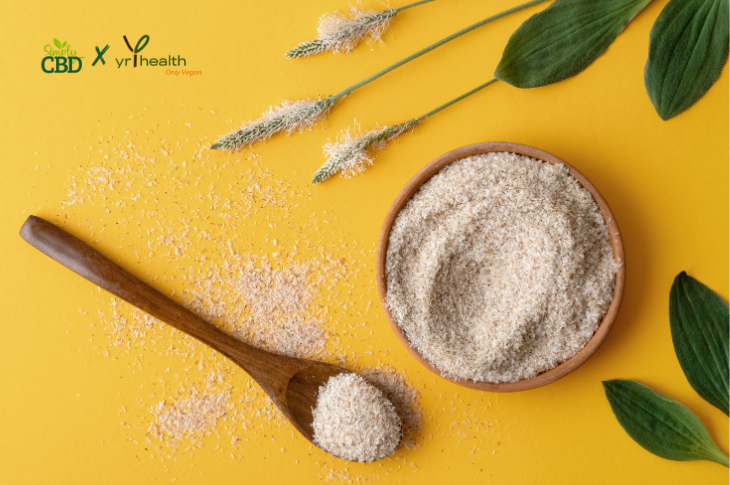 Psyllium Husk: Everything You Need To Know
We recently added 30 vitamins and supplements to our product range in partnership with our sister brand, YR Health. This collection includes standard supplements like Vitamin C, Iron, and Multivitamins, as well as some unique options. For example, we now offer a Psyllium Husk Complex supplement, which is a lesser known natural product made from plant fibre. From what it is to how it works, this article covers all the important information surrounding psyllium husk.  
What is psyllium husk?
Psyllium husk is a type of plant fibre that originates from the seeds of a plant called Plantago ovata. Each Plantago ovata plant can produce up to 15,000 seeds. Psyllium husk makes up the outer coating of the seed which is harvested and used as a natural health product. It may be taken on its own or in combination with other supplements, depending on the needs of each individual. 
Why do people take psyllium husk supplements?
Psyllium husk is a bulk-forming fibre, making it useful for digestive health. The phrase 'bulk-forming fibre' means that psyllium husk is able to soak up water from the gut. This can help promote regular bowel movements, while also making them easier to pass without any pain or discomfort. Unlike other supplements that aim to promote regular bowel movements, psyllium husk is able to do so without simultaneously increasing issues with gas or flatulence. Additionally, due to its ability to soak up water, it can promote feelings of fullness which may help with weight loss. 
Some people use this product to combat constipation, bloating, and other digestive symptoms, while others use it to maintain or improve their overall digestive health. In addition to those with gut issues, people who are following keto, paleo, and low-carbohydrate diets could benefit greatly from using a psyllium husk supplement to help maintain healthy digestion. 
Studies also suggest that taking soluble fibre like psyllium husk may help improve heart health as it can aid in controlling cholesterol levels. This is particularly important in people over the age of 50, although everyone should aim to keep their cholesterol levels in check for good overall health. 
What is the recommended daily dose of psyllium husk?
The perfect dose of psyllium husk can vary between individuals, products, and reasons for use. YR Health's Psyllium Husk Complex offers 1300mg per capsule, with a recommended daily dose of two capsules. It's preferable but not essential to take this supplement with a meal. 
For those who feel unsure about their ideal dose, consulting with a healthcare professional is always the safest option. This is because they can take medical history and any other additional health factors into account when working out the right dose for each individual patient. The important part is not to exceed the recommended dose of two capsules daily unless directly advised otherwise by a healthcare professional.
What sets YR Health's Psyllium Husk Complex apart?
Experts at YR Health extensively researched the perfect combination of ingredients to complement the excellent dietary fibre that is psyllium husk. This resulted in the addition of peppermint and ginger, which both help make this product gentler on the stomach than other pure psyllium husk supplements. 
This product's unique formula can help eliminate the cramps that are often associated with high fibre products while supporting the function of the digestive system and eliminating digestive discomfort. It's also 100% natural, vegan, and contains no GMOs, gluten, wheat, or other common allergens, allowing it to fit seamlessly into almost any lifestyle. 
What do YR Health's customers say about Psyllium Husk Complex?
Here are some 5 star reviews from verified customers who have purchased YR Health's Psyllium Husk Complex on Amazon:
"Helped with a lot of my stomach issues just taking 2 of these a day. I couldn't go without them now."
"This certainly does what it claims to do. After only a few days, my - ahem - movements were smooth and regular. Some people find the size and flavour of the capsule a problem. Not for me. The capsule is fine in size and the taste hardly noticeable. A truly great product from a British company that I will be buying more products from."
"These are great in helping you to stay regular and keep you full so you eat less throughout the day. I always reorder before my tablets finish. Can't live without them!!"
"I have gilbert's syndrome and have suffered constipation most of my life from it. These tablets have pretty much changed my bowel movements instantly. I would struggle going to the toilet every day, now I'll go once or twice, which has helped with bloating. I take them with breakfast and a litre of water, and they have been extremely effective. Will definitely be buying again!"
"This really did work for me, I think the Peppermint combo does the trick. It's high strength and a great price, great quality. Highly recommended."
"I am really happy with these. I am doing keto at the moment which means I am not getting as much fibre as I need and I also take painkillers which make me constipated and these have helped with regularity and have stopped the pain of going. They are great value for money compared to other brands. I would highly recommend it :)"
"Worked a treat. Took 2 of these bad boys and 6 hours later spent a much needed 20 mins reacquainting my backside with the porcelain. Taken with water and no grim aftertaste."
Key takeaways
Here are the key points to remember about psyllium husk:
Psyllium husk is a bulk-forming fibre that comes from the outer coating of Plantago ovata seeds.

Psyllium husk can soak up water in the gut, which helps promote regular, pain-free bowel movements.

YR Health's Psyllium Husk Complex can be used to help relieve symptoms of constipation and bloating, as well as to improve or maintain general digestive health.

Studies suggest psyllium husk may be able to help improve heart health by keeping cholesterol levels down. 

Some people use psyllium husk to help with weight loss as it can promote feelings of fullness.

There is no definitive ideal daily dose of psyllium husk, but YR Health recommends taking two 1300mg tablets daily with a meal unless directed otherwise by a healthcare professional.

YR Health's Psyllium Husk Complex stands out from its competitors as it also contains ginger and peppermint, both of which can help ease any discomfort that may come from taking large amounts of fibre.

This is a popular product that has earned a rating of 4.4 stars on Amazon based on reviews from hundreds of happy customers.