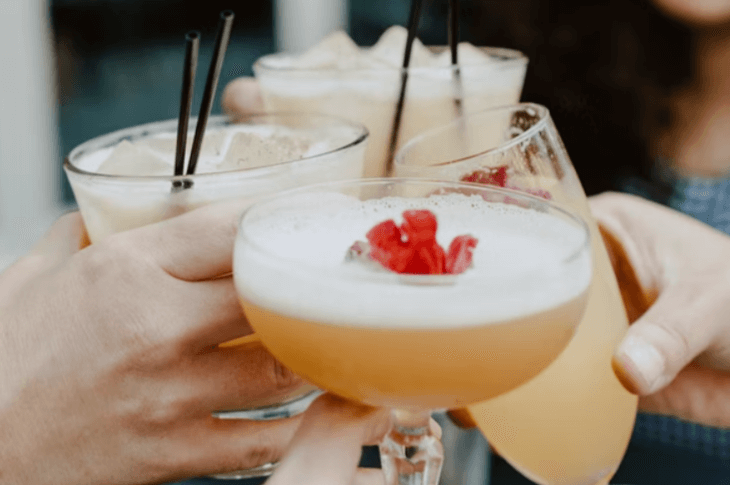 CBD and Alcohol: Can They Be Consumed Together?
CBD products are continuing to increase in popularity as more people learn about and enjoy their effects. With this increased popularity comes more questions, especially around whether CBD causes restrictions in other areas of life. One of the most frequently asked questions about ingestible CBD products is whether it's okay to consume them at the same time as alcohol. In this article, we cover CBD and alcohol consumption, the effects of mixing CBD and alcohol, as well as a CBD drink recipe. 
Can CBD users drink alcohol with CBD?
Many CBD users enjoy drinking alcohol but are concerned that it could cause negative effects when mixed with their favourite CBD products. While the research on this topic is still limited, there is no evidence to suggest that consuming both alcohol and CBD is inherently unsafe. CBD users can still take their CBD as they usually would when drinking alcohol, whether that's sublingual, in the form of an edible, or a topical treatment. 
Alternatively, users can add water soluble CBD to an alcoholic beverage, such as a cocktail or a glass of wine. This is a convenient option for those who take CBD in the evenings and want to drink at the same time. As our Entourage Aqua Water Soluble CBD is tasteless, it won't alter the taste of alcoholic drinks, making it the perfect addition to any beverage.
What are the effects of drinking alcohol with CBD?
As mentioned, the research into the interactions between CBD and alcohol is still in its early stages, but the evidence available suggests that it's safe to consume them together. Users can expect to feel a combination of the effects of alcohol and the effects of CBD when mixing the two substances. For example, alcohol will still cause people to become drunk when drinking it in excess, regardless of whether it contains CBD or if the user has taken CBD before drinking. In fact, some studies suggest that CBD and alcohol may amplify each other's effects.
Each user can see different results from using CBD products. Regardless of what effects CBD has on a user, those same effects are what the user can expect when mixing CBD with alcohol. However, these effects may be amplified by the addition of alcohol. For example, some people find that CBD makes them feel drowsy, which could occur at a higher rate when mixed with alcohol. 
Raspberry margarita recipe with water soluble CBD
A margarita is a classic and popular cocktail that is fairly simple to make. There are many variations of the classic margarita, including fruit infusions. We have put together a raspberry margarita recipe that includes our water soluble CBD product so users can try the mix of CBD and alcohol for themselves with this delicious beverage.
CBD raspberry margarita ingredients
Here are the necessary ingredients to make this tasty CBD-infused twist on the classic margarita:
One to two shots of tequila (depending on strength preference)

One shot of triple sec

One shot of raspberry liqueur

Five raspberries 

Two shots of lime juice 

One teaspoon of sugar

Two to three ice cubes (for shaking)

One thin slice of lime (for garnish)

Desired quantity of Entourage Aqua Water Soluble CBD

Desired quantity of salt or sugar for rim (optional)
CBD raspberry margarita recipe instructions
Here are the steps to follow when creating the perfect CBD-infused raspberry margarita:
Begin by muddling five raspberries and a teaspoon of sugar in the cocktail shaker.

Next, add the tequila, triple sec, raspberry liqueur, lime juice, water soluble CBD and ice to the cocktail shaker.

Now it's time to shake the constituents together thoroughly until they're mixed well.

The next step is to rim the margarita glass with sugar or salt by wetting the rim with lime juice or water and rolling it in salt or sugar. This step is optional and down to personal preference as some people prefer not to have a rim on their glass.

Next, add the cocktail mix to the margarita glass through a strainer to keep the ice and raspberry seeds in the shaker.

To garnish the cocktail, add a thin slice of lime to the rim of the glass.

Finally, enjoy this delicious CBD infused cocktail!
Let us know if you make this cocktail via our social media channels, we'd love to see your creations. We're @simplycbduk on Instagram and @mysimplycbd on Facebook. 
Key takeaways
Here are the important points to remember about mixing alcohol and CBD:
It's generally considered to be safe to mix alcohol with CBD products, including ingestible CBD.

Research into the mixture of CBD and alcohol is still in its early stages.

The effects of alcohol may be amplified if it's mixed with CBD products.

The effects of CBD products may be amplified if they're mixed with alcohol.

Water soluble CBD products, like our Entourage Aqua Water Soluble CBD, can be added to alcoholic beverages.