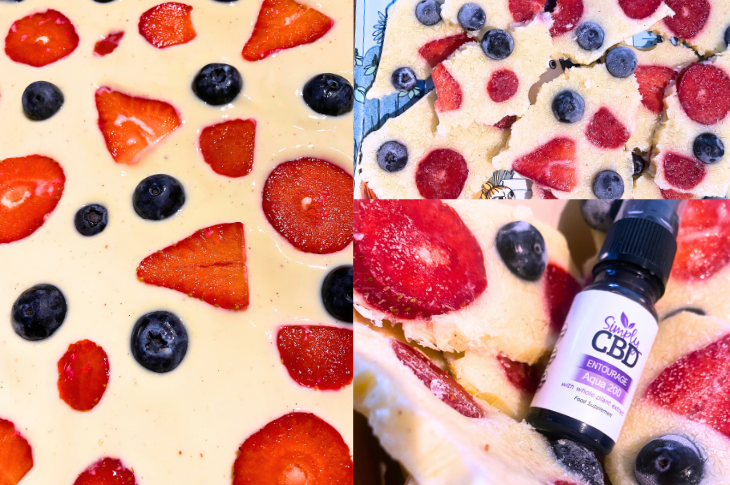 CBD Snacks: Fruity Yoghurt Bark Recipe
We all love a sweet treat, whether it's after dinner, part of a picnic, or a simple pick-me-up throughout the day. The downside is that most easily accessible sweet snacks are unhealthy, contain additives, and are high in processed sugars. That's why we're sharing our healthy, sweet, and tasty snack recipe that you can also infuse with your daily dose of CBD! 
What is yoghurt bark?
Yoghurt bark is a healthy snack that's very easy to make and customise to your taste preferences. Making this snack involves freezing CBD-infused yoghurt and various toppings. You can make it as simple or complex as you like, and create bespoke serving sizes to fit your appetite. At Simply CBD, we love to create new, fun ways to incorporate CBD into our customers daily lives. This homemade snack offers a great way to take in some extra additions to your five-a-day, gut-friendly probiotics, and your daily dose of CBD. Even better? It tastes like a dream. 
CBD-infused yoghurt bark recipe
This recipe is highly customisable and some elements depend on factors like your tray size or your personal preferences. 
Ingredients
In addition to a tray and some greaseproof paper, here are the key ingredients you'll need:
300ml-500ml of your favourite yoghurt (plant-based or dairy - we used soy vanilla yoghurt. The exact amount depends on the size of tray you use)

Fruit of your choice (we used 1-2 sliced strawberries and a handful of blueberries)

Additional toppings of your choice (more details below)

2-4 pumps of water soluble CBD

(this can be adjusted to fit your dose - just remember that this recipe will provide multiple servings, the exact number of which depends on how small or large the pieces you break off are)
Instructions
Here are the simple steps to follow to create your own CBD infused yoghurt bark
In a bowl, mix your water soluble CBD dose into your chosen yoghurt.

Lay greaseproof paper over the tray you will freeze the bark on. 

Pour your CBD yoghurt mixture onto the tray and smooth with a spoon until it's evenly distributed.

Complete any necessary prep required for your toppings (i.e. slicing strawberries)

Add your fruit and any other toppings of your choice to the tray, distributing them as evenly as possible.

Place your tray carefully into the freezer and allow your mixture to freeze for at least two hours or until the yoghurt has solidified.

Remove the tray from the freezer and peel your bark from the greaseproof paper.

Break your bark into pieces in the shapes and sizes you prefer.

Enjoy!
Customisation options
In addition to switching up the yoghurt flavours and fruit options that we discussed above, you can also add extra toppings to tailor your yoghurt bark to your liking. Below are a few of our top suggestions for customising this recipe. 
Nuts and Seeds
If you're looking to diversify the flavour and texture of your yoghurt bark, adding some nuts or seeds is a great way to go about it. They also provide extra nutrients and health benefits, the specifics of which depend on which nuts and/or seeds you add. Popular options include pistachios, walnuts, sunflower seeds, and chia seeds. 
Granola
Granola, yoghurt, and fruit are a classic combination already, so adding granola to this recipe is a no brainer. In addition to tasting delicious, it also adds some extra crunch and provides its own health benefits. Depending on your preferences, you could add clusters of granola or crush it down and sprinkle it over the mixture. 
Chocolate 
Most people will agree that the perfect addition to any sweet treat is some form of chocolate. While dark chocolate is the healthiest option, you may also choose to add milk or white chocolate if you prefer. This may be in the form of chocolate chips, chunks, or melted chocolate drizzled on top or incorporated into the yoghurt mixture. No matter how you choose to add it, chocolate is sure to enhance the already delicious flavours of this recipe. 
Final thoughts
We hope you enjoy this recipe as much as we do. If you're looking for more CBD-infused recipes, we have multiple articles on our blog with both sweet and savoury recipes for you to try. This includes our healthy CBD-infused breakfast series, which offers a new way to incorporate your morning dose of CBD into your daily routine. 
If you make any of our recipes, please let us know your thoughts. You can reach us via email (georgia@simply-cbd.co.uk) or tag us on any of our social media pages. 
Happy cooking!