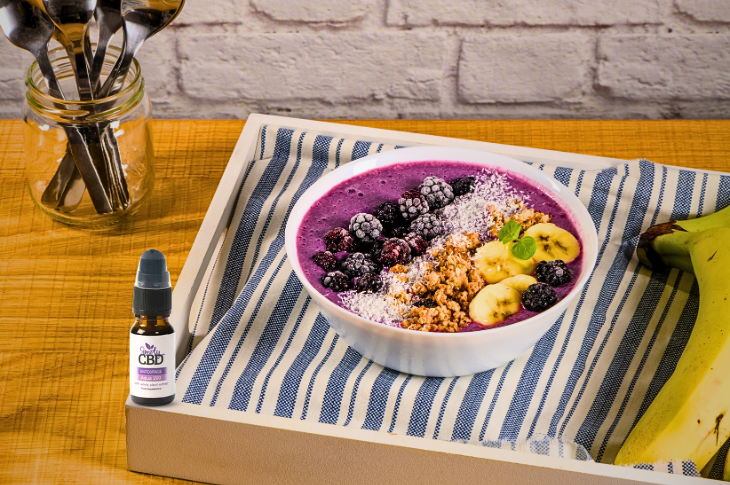 Healthy CBD-Infused Breakfasts: Blueberry Muffin Smoothie Bowl
Are you looking for a healthy breakfast idea that's equal parts delicious and nutritious? You've come to the right place. We've included a base recipe, as well as six topping options for you to experiment with. Plus, our recipe includes your morning dose of CBD, saving you time in your morning routine. Now you can get everything you need to start your day off right from one simple recipe!
What makes this a good breakfast option?
This recipe is full of healthy ingredients, tastes amazing, and is very easy to make. It tastes like an indulgent blueberry muffin without the need for extra sugar and other unhealthy additives that baked goods typically contain. Instead, it's rich in antioxidants, fibre, potassium, folate, and various vitamins and minerals. Combining healthy ingredients with the benefits of CBD in one tasty package makes this recipe a showstopper of a morning meal. 
CBD-infused blueberry muffin smoothie bowl recipe
These are the ingredients and instructions we recommend following to make this recipe. However, it's not a particularly strict recipe, so quantities can be adjusted to reach your desired taste and texture results if needed. For example, depending on how thick you want the consistency to be, you may want to increase or decrease the amount of milk and/or yoghurt you use. 
Ingredients
Here's what you'll need:
160g frozen blueberries

½ frozen banana

130ml milk (plant-based or dairy)

2 tbsp oats

1 tbsp flax seeds

1 tsp chia seeds

½ tsp lemon

½ tsp maple syrup

2 tbsp yoghurt (plant based or dairy, frozen or regular)

Your morning dose of

water soluble CBD
Note: This quantity of ingredients creates a single serving. It can also be enjoyed as a drinkable smoothie if preferred. 
Instructions
Here's how to make this tasty breakfast bowl:
First, add all of your ingredients (including water soluble CBD) to a blender and blend them until well combined.

If needed, you can add extra ingredients to loosen or thicken the mixture (such as extra milk or frozen blueberries) and blend until you're happy with the consistency.

Pour the mixture into a bowl.

Add your desired toppings to the bowl.

Enjoy!
Optional toppings
These are the optional toppings we recommend trying with our CBD-infused blueberry muffin smoothie bowl.
Seeds
There are various types of seeds you could choose to add as a topping for this recipe. They provide extra nutrients, healthy fats, and help to diversify the texture of the bowl. To keep it simple, you may want to add more flax and/or chia seeds. You could also choose other options, like hemp seeds. Going a slightly different direction, you could include pomegranate seeds for an extra fruity punch. Any of these options make great additions to our smoothie bowl. 
Coconut flakes
Coconut flakes make an ideal topping for this recipe. They, like seeds, are high in healthy fats and also offer some extra fibre. They're very tasty and complement the other flavours in the bowl perfectly. If you have a particular affinity for coconut, you could even opt to add some into the original base recipe in addition to or instead of as a topping. 
Nuts
Nuts are a great way to add some extra crunch, as well as healthy fats, protein, vitamins, minerals, and fibre. Whether you choose walnuts, almonds, cashews, pecans, or a mixture of them all, nuts make an ideal topping for this recipe. If you'd like to add nuts in smaller pieces, you can crush or chop them into the size you prefer.
Granola
Granola is already a popular breakfast food, so it makes perfect sense to add it as a topping to your smoothie bowl. It offers some crunch and bolsters the meal with some extra nutrients. Now you can step up the regular old granola and yoghurt bowl by adding both to your smoothie bowl instead.
Extra fruit
This recipe centres around blueberries, so adding extra blueberries will obviously suit this recipe perfectly. You may also want to add other fruits, such as strawberries, blackberries, banana slices, raspberries, or acai berries. Depending on the texture you prefer, you can choose to include fresh and/or dried fruit. Either way, you'll get some extra sweetness and nutrients while diversifying the fruity flavour of the recipe. 
Edible flowers
While edible flowers aren't a particularly common option, they do make a great addition to smoothie bowls. Some of the most popular edible flower options include elderflower, pansies, viola flowers, and apple blossoms. In addition to the nice aesthetic they offer, they also contain nutrients and can add subtle flavours to the recipe. 
Final thoughts
We really hope you enjoy this recipe! It's an easy way to incorporate CBD into your existing morning routine. If smoothie bowls aren't for you, we've also posted various other CBD-infused recipes, including two others in our healthy CBD-infused breakfasts series. These include loaded avocado toast and customisable chia pudding. 
If you give any of our recipes a try, please let us know as we'd love to hear your feedback. You can contact us via email (georgia@simply-cbd.co.uk) or tag us in a social media post. We can't wait to see your creations!